Let's Be HumanKind
This year we're celebrating our shared humanity
Home for the holidays. It's a tradition that we all cherish, but is sadly not available to many. For those forced to flee their homes due to conflict, persecution or violence, finding a new one can be fraught with turmoil and danger. That's why this year we emphasize HumanKindness, by supporting the 111-year-old non-profit U.S. Committee for Refugees and Immigrants as they help those in need find new homes in this country. Especially today, we aim to give relief and welcome our Afghan brothers and sisters as they navigate a new life here in America.
0

M

people forcibly displaced due to violence, persecution, conflict or human rights violations.
0

/

0

of displaced people come from just five countries: Syria, Venezuela, Afghanistan, South Sudan and Myanmar.
0

M

million immigrants in North America. 3M refugees have settled in the U.S. since 1975.
0
All 50 states have accepted refugees into their communities.
Our Stories
The uniquely American success story is rooted in our longstanding tradition of encouraging people from all over the globe to seek a better life here. See some of our own Rain immigration and refugee stories here.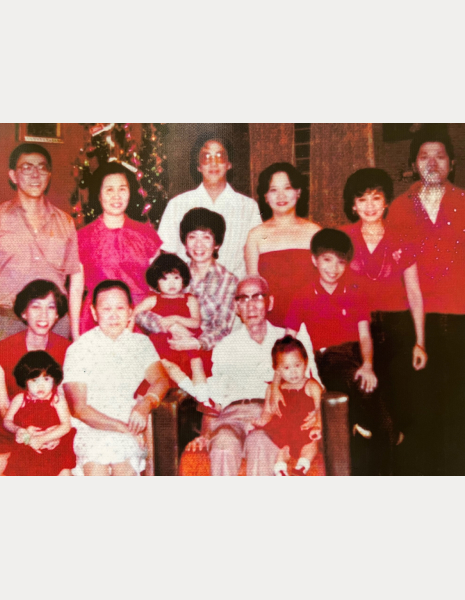 Alice Li
Media Supervisor
I am second-generation born in the Philippines, and can speak multiple languages.
This is my maternal side family photo, taken in Manila in the early 80s. Both of my grandparents immigrated from Fujian province in China to Manila around the 1920s. During that time, the Chinese Exclusion Act was in place because the Philippines were part of the US territory—my grandfather had to buy a deceased man's name to migrate into the country for a better opportunity. As a result, my maternal side carries two last names: one is Tan, our Western name used in all appropriate documents, and our true Chinese name on my maternal side: Po.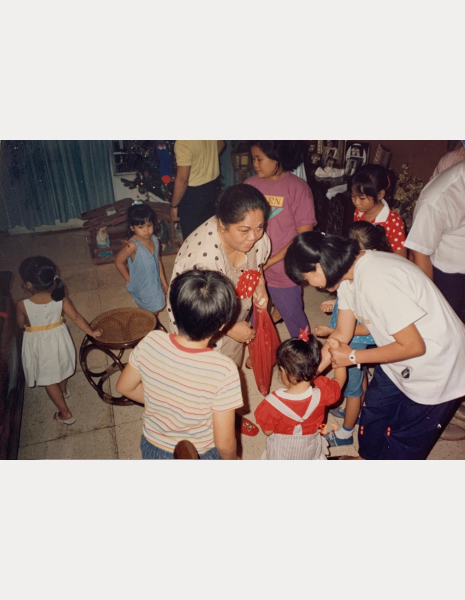 Beatrice Livioco
Director of Marketing
For New Year's eve, it is a Filipino tradition to throw coins around the house to attract prosperity for the coming year. This holiday is usually celebrated with lots of family and while the coins are being thrown, the children run around grabbing as much as they can. This photo shows my Mommy Lola sneakily adding some coins to my bag – I like to think I was her favorite as I was named after her. We look forward to carrying on this tradition as we just moved into our first home!
Emilio Ramirez
Programmer/Analyst
My father has had a ton of different jobs throughout his life. One of them was as a migrant worker from Mexico back in the 60s. His English wasn't great, but was the best of the bunch he traveled with so he became the group's spokesman. He got tired of that work eventually and met my mom in a small Texas border town during one of those trips. They married and started a family, but my mom had bigger ideas and moved us all to Chicago when we were little. In time, my pops got his US citizenship and counts that day as one of his proudest. The picture is of my father and his sister before meeting my mother.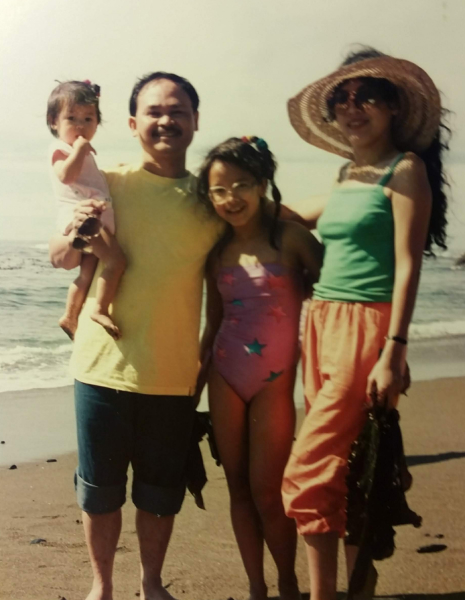 Emily Dang
Project Manager
My parents fled Vietnam and left everything they had to immigrate to the U.S. with my older sister. Due to instability after the Vietnam War they wanted a better life for the family. After spending nine months at a refugee camp in the Philippines they eventually landed in Portland, OR in 1987. Shortly thereafter I was born. I hold the honor of being the first American-born citizen on both sides of my family. My parents were able to pass on their culture and traditions to me and I am lucky enough to be bilingual and bicultural.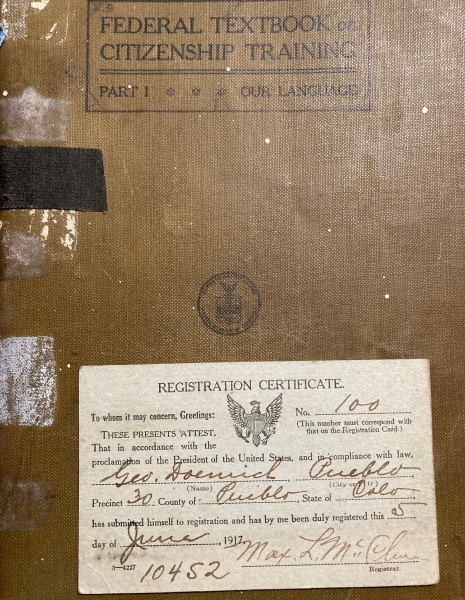 Erik Stachurski
Financial Reporting Director
I am the great-great-grandson of Russian & Polish immigrants from what is now Poland, Belarus and Ukraine. In 1911, my great-great-grandfather Grigorio Antonov Demasha traveled from Minsk to Chicago. He received two books from Immigrations: a Federal Textbook on Immigration with simple phrases, a US map, holidays, etc., and a Russian-English dictionary. Both are full of notes from 100+ years ago–also interesting to see what was considered "important" information, and how an immigrant got started!
He settled in Pueblo, CO. There he raised cattle with his son, my great-grandfather–a long strange trip if there ever was one!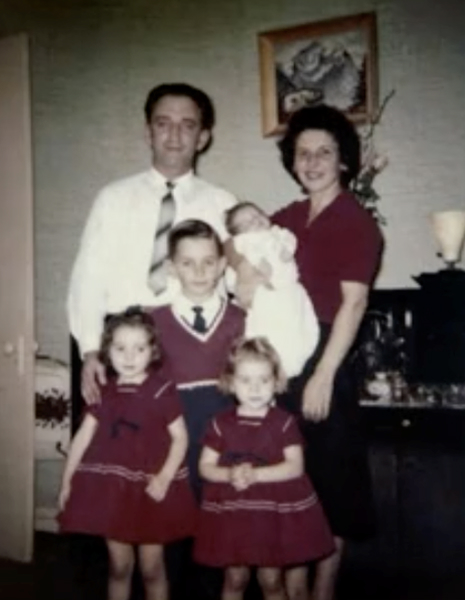 Iris Brenk
Creative Services Manager
I am a first-generation German/Polish-American. My father was born in Poland and my mother in Germany. They met in Germany after World War II and moved to the US in 1950, specifically to Chicago. This is a Christmas photo of me with my parents and siblings. We had many traditions that my husband and two daughters continue to celebrate today: filling shoes left at the door by St. Nikolaus on Dec 6th, hide the pickle ornament in the "live" Christmas tree, sharing oplatek (an embossed Christmas wafer/host) before a traditional meatless dinner, then open gifts before attending midnight mass.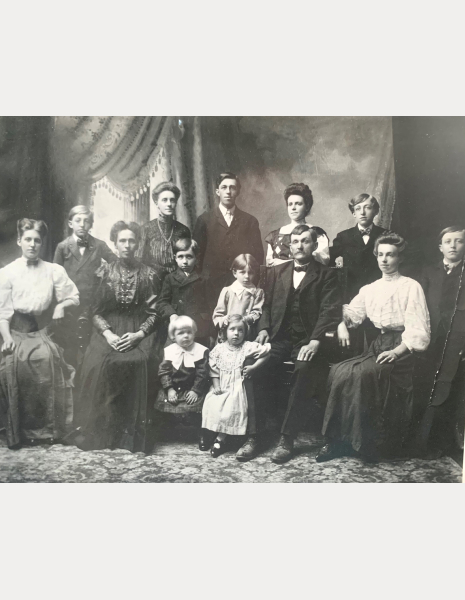 Jessica Beitzel
Executive Assistant
Our family arrived at Ellis Island on September 26th, 1856 from Kirchesch, Rheinland-Pfalz, Germany.
This photo was taken in 1907 in Lake County, Illinois (NW suburbs of Chicago).
The little girl in the white dress (front row) is my great-grandma, Colleta Beitzel. She was 3 years old in this photo and 1 of 12 children. My great-grandma lived until she was 90 years old, so I was fortunate to have met her when I was little.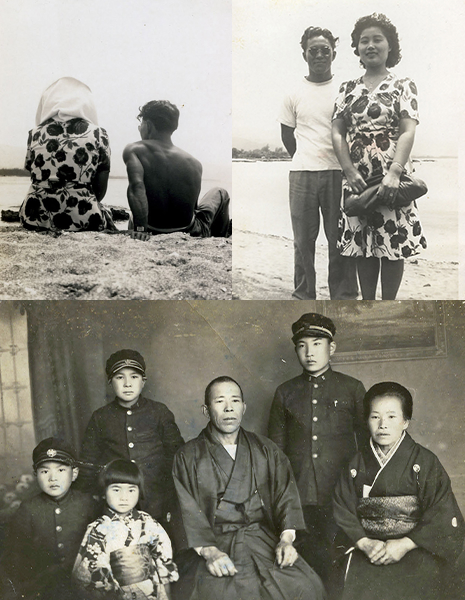 Kat Sakata
Senior Art Director
My great-grandparents migrated from Japan to Hawaii in the early 1900's. My great-grandfather loved working with his hands and learned carpentry skills while working on the plantations in Hawaii. After he left the plantation he built a large pig farm in Honolulu, which would eventually help to feed the soldiers during the war. Since they were vital to the army, my great-grandfather's family was fortunate to not be forced into internment camps, even though they were of Japanese heritage.
The top photos are pictures of my grandma and grandpa sitting on the beach. It was believed to be taken the day Pearl Harbor was hit, on December 7, 1941. The bottom photo is my grandfather's family portrait taken in 1925.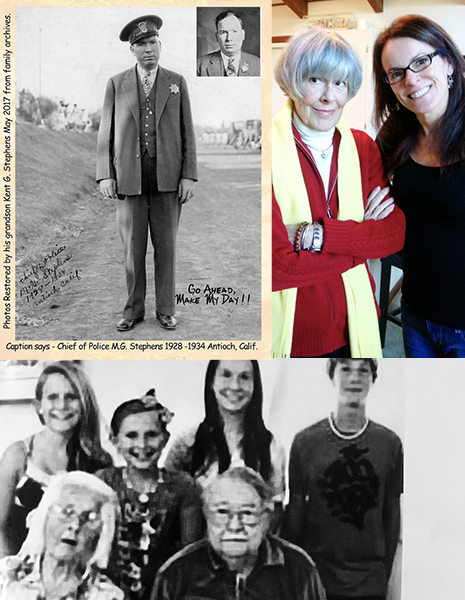 Marilyn Davis
EVP & Managing Partner
On my paternal side, both my Dad's family and my biological Mom's family came from neighboring towns in Wales and both settled in Utah and Idaho (Preston, ID & Logan, UT). Additionally, both my adoptive Mom and biological Mom's maternal sides hailed from Denmark and arrived at Ellis Island in the late 1700s within a year of each other and also made their way to the same area in Utah & Idaho. It really is 'a small world after all'. Fun to imagine that perhaps they even know each other.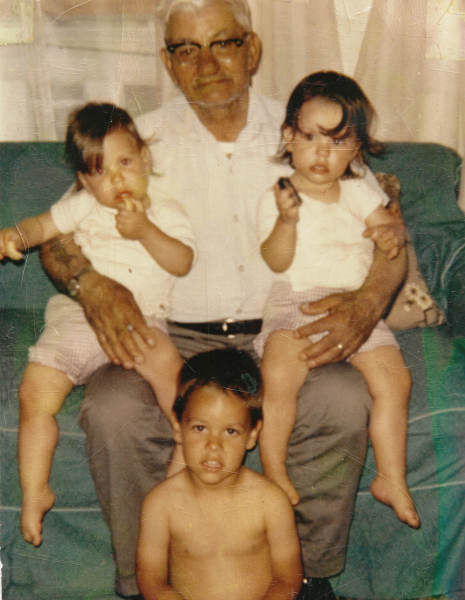 Michelle Cardinal
CEO/Co-Founder
This is my grandfather, Saverio Guzzo, with my twin sister Denise, me (on right knee) and my brother Steven when I was one year old.
Papa came from Calabria, Italy, in 1911, and landed in Boston with only the shirt on his back. Papa loved to play the mandolin, sing Italian songs to us kids and garden. He is famous for keeping a fig tree alive year round that he would bury in a small root cellar during the winter months. He was an American soldier in WWI and did manual labor his entire life helping to build tunnels and roads in Boston, making me a proud Italian American granddaughter!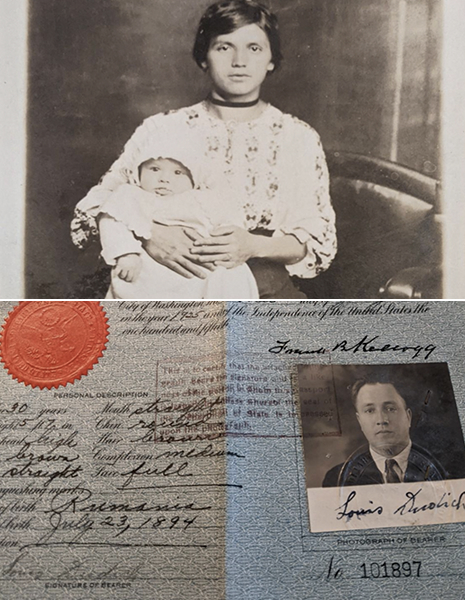 Natalie Sienicki
Assistant Media Planner
My grandmother and grandfather's parents traveled to the U.S from Italy and Romania, arriving at Ellis Island, and then moved to Detroit, Michigan! My grandfather and grandmother met in high school and got married before my grandfather enlisted in the army. Their names were George and Ida Duditch. I am half Italian, a quarter Romanian and a quarter Polish, but grew up with a heavy Italian influence as my Grandmother could speak Italian, yet never taught me or my sister.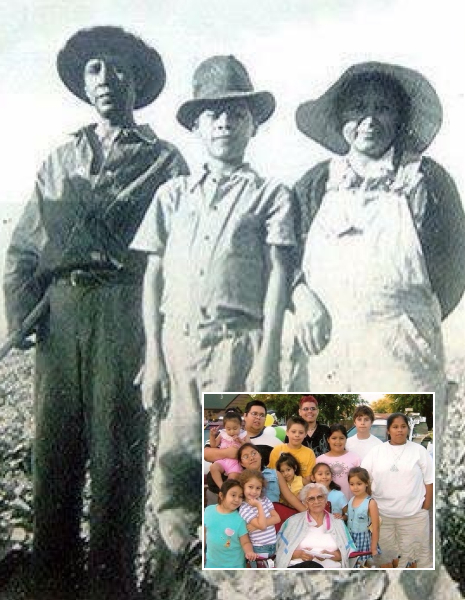 Perlita Anzures-Flores
Media Planner
The Flores side of my family immigrated to the US from Coahuila, Mexico in the 1900's. I come from a long line of farm workers and my grandpa Raul was part of the farm workers labor movement led by Cesar Chavez and Dolores Huerta in the 1960s!
Grandpa Raul and my grandma Irene Rebollosa raised nine children and have over 20+ grandchildren and great-grandchildren. They dreamed that their grandchildren would have access to opportunities they didn't have in terms of education, economic mobility, and equality.
Their memory and values of hard work, integrity, and the importance of family live on today through their many loved ones!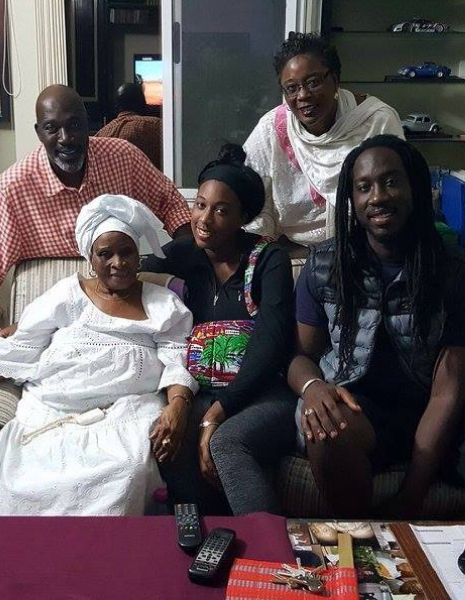 Rashod Berkley
Analyst, Marketing Analytics
My dad's side of the family is from Dakar, Senegal on the most western point of Africa. In the photo is my dad, sister, aunt, and great aunt. My dad was the first to come to the US, but back home my family lineage (Thiendella) is pretty revered. We have a long line of family who were (and still are) involved and respected in politics and even to this day griots will sing songs praising our family name. The photo was taken c. 2015.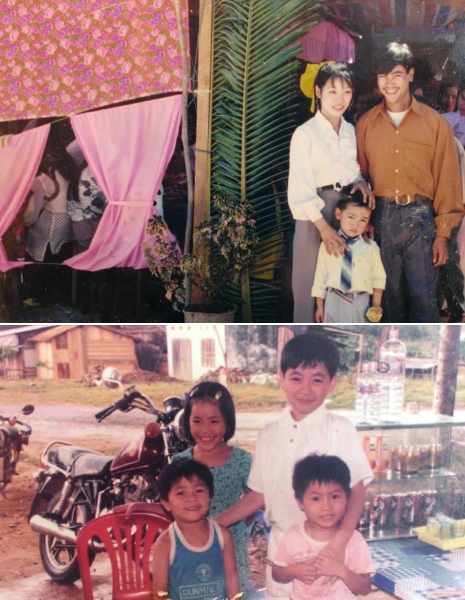 Son Le
Asst. Specialist, Digital Media
I'm a new US immigrant for 1 year. But all my parents (picture 1) and siblings (picture 2) are still in Vietnam. I'm the eldest brother with a young sister and two twin brothers.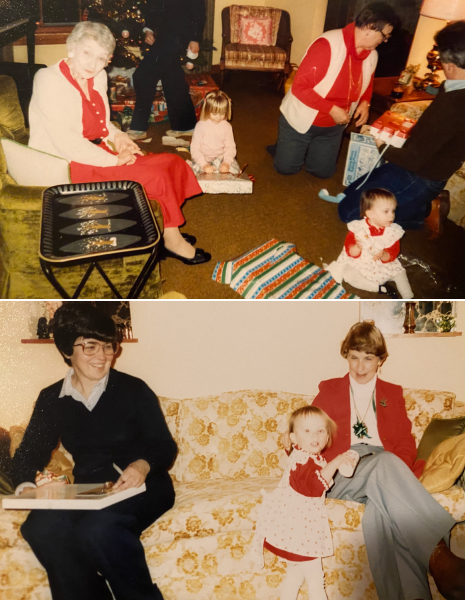 Stefanie Williams
Media Planning Supervisor
My great-great-aunt Mavis (top photo, red dress) is 100% Armenian. She and her family fled Burma on foot after WW2 began, heading to India and then to America with her husband. Some years later after my great-grandma passed away, they sponsored the visa for my grandma Megan (black sweater) to travel from Bombay to the US, ending up in Chicago. It was there in Chicago that she met my grandpa Ken. I'm the littlest cutie in the photos, in the red and white dress, and my big sis is in the top photo in pink. My grandma is now 96 and still has some of the trinkets she took with her from Burma long ago.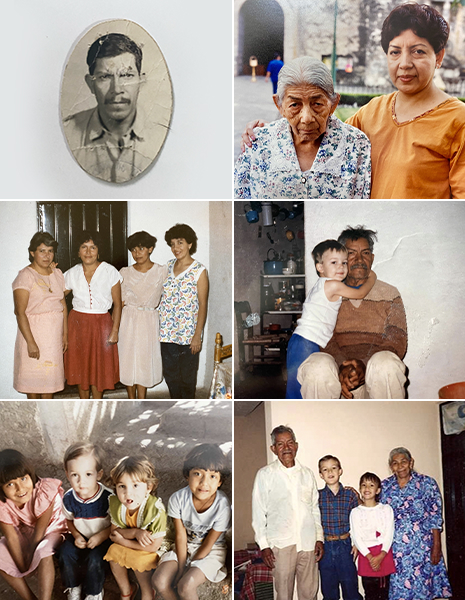 Steve Miller
Client Development Director
My mother moved up to the States from Mexico around 1980, to meet one of her older brothers, who was a migrant farm worker in Central California. My sister and I are Chicano-Americans, who have experienced Mexican culture via several trips south to visit our abuelos, tios and primos for Navidad. We never take our prosperity in a first-world country for granted.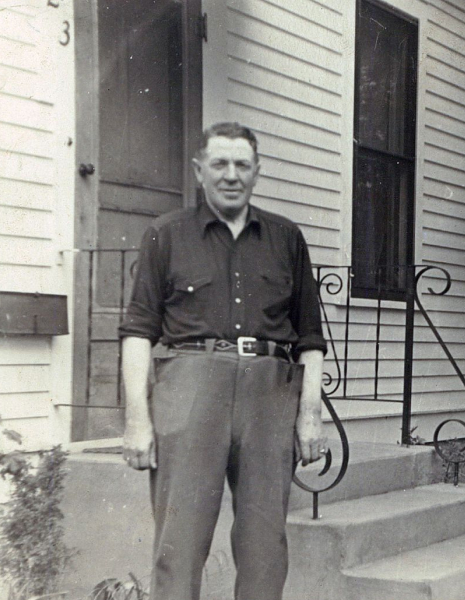 Tim O'Leary
Co-Founder & Chairman
This is my Grandfather, Barry O'Leary.
He immigrated from Ireland to Montana in 1915. Despite the fact that he was illiterate, and poverty stricken, with the help of his Irish immigrant wife Margaret, they founded and ran a construction company that they expanded to become one of the largest companies in Montana. They built many of the roads and bridges that are still in use across the Western US.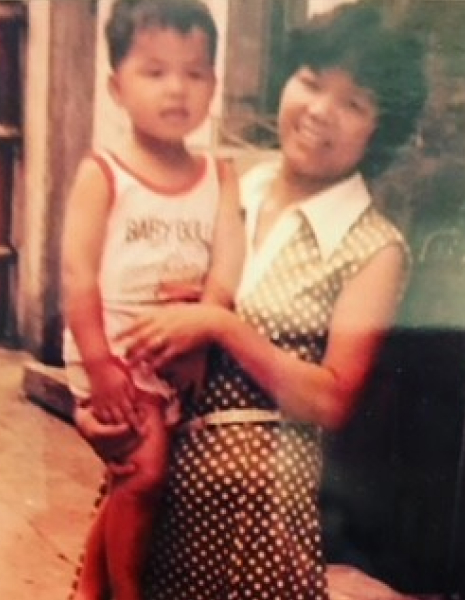 Todd Yu
Digital Media Director
My parents and I immigrated to Sacramento from the Cantonese region in southern China in the early 90s. Our American Dream began in Los Angeles. My parents were blue collar workers and became American citizens within 10 years in this country. Though my parents never learned English due to work hours and lack of education, I am very proud to be fluent in our native dialect, which is widely spoken within the Chinese diaspora in San Francisco.
Many Chinese immigrants from this region say "Your heart will not settle until you have crossed the Yellow River" – meaning infinite opportunities begin in the country of beauty (America).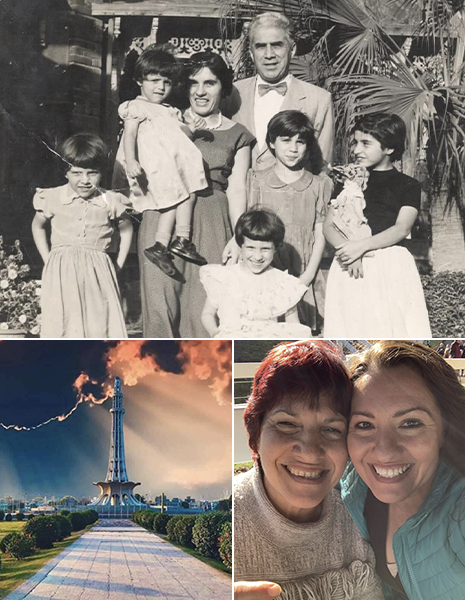 Vanessa Tomason
Building Operations Manager
My grandfather (from the North Caucasus region of Dagestan) and grandmother (from Austrian-Pakistani descent) met in a refugee camp in Berlin, Germany. They were granted permission to move to Pakistan and my grandfather became a citizen after four years. My grandfather ended his career as a well-known Architect, Civil Engineer and Town Planner who designed, pro bono, the Minar-e-Pakistan which is a National Monument in Lahore.
Happy holidays from Rain the Growth Agency